History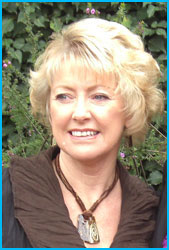 Lorraine Rogers was born in Melbourne in 1953. As a young child she was always up to mischief with her twin brother and sisters. In her teens she was quite an athlete with achievements in sprinting and high jump and in later years netball. She was a trained nurse and midwife for fourteen years in Melbourne before moving to Queensland in 1983 with husband and two young sons. In order to stay at home with her boys Lorraine started a home based business, supplying hand painted clothing to boutiques all over Australia.
Her career in painting had begun since 1974. She is largely self-taught and has developed a unique and recognisable style. She had already dabbled in oils, with Sherbrooke Art Society in Victoria and studied drawing and painting under Robert Hammond who helped her to explore her creativity. John Lovett taught her to explore the potential in watercolour and mixed media with whom she spent many years developing her design, colour and compositional skills.
In 1998 at last the time was right to live her dream and paint full time. With lots of encouragement from her husband she has gone from strength to strength and now has paintings hanging in homes all over the world. She has won many prizes, including two firsts in her very first Art Show in 1990. Her art continues to evolve with detail, colour and diversity. In the new millennium, the art world is much less concerned about the purity of the medium. What counts is results, feel free to combine a little pastel with watercolour or whatever it takes to convey the mood or to capture the moment.